Chicago Archbishop George William Mundelein was about to put his town, and the United States, on the map -- at least with the Roman Catholic Church. It was a tremendous coup for the Chicago Archdiocese to be chosen to host the event, and over one million people attended from June 20-24, 1926.
These were the days before the Pope traveled internationally, and Papal Legate Cardinal Bonzano, the Pope's personal representative, was to travel from Italy to Chicago to address the faithful.
Enter the Cardinal's Train. To transport a trainload of clergy from Manhattan to the Chicago site, the New York Central Railroad and the Pullman Company teamed up to operate a special train along most of the route of New York Central's 20th Century Limited from New York's Grand Central Terminal to Chicago's Park Row Station (a special detour onto the Illinois Central Railroad).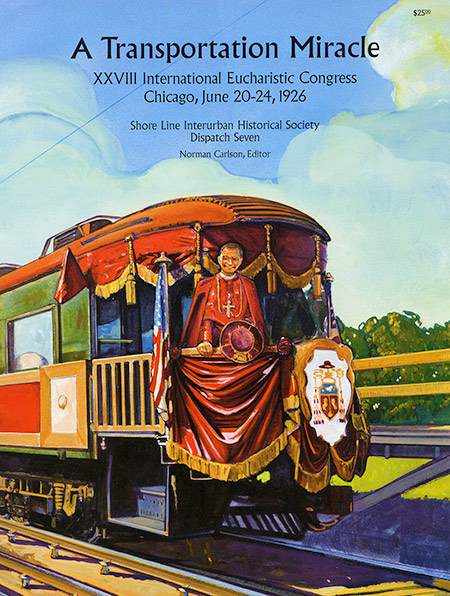 Seven Pullman cars were repainted in cardinal red and gold for the special train -- pulled by a New York Central steam locomotive -- that carried Cardinal Bonzano, Cardinal Hayes of New York, and seven visiting foreign cardinals (and their substantial entourages) to Chicago in almost exactly 24 hours, leaving New York City at 10 AM on Wednesday June 16, 1926.
In Chicago the train was greeted by Mayor Dever, the City Council, Cardinal Mundelein, and a cheering crowd of thousands.
After its (one) day in the sun, the gleaming 'Red Special' was soon disbanded, repainted, and put back into regular service. But what a train it had been!